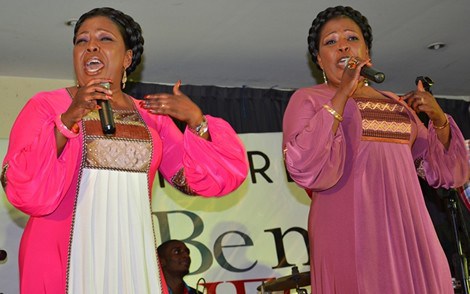 Gospel duo, Tagoe Sisters born Lydia Dedei Yawson nee Tagoe and Elizabeth Korkoi Tagoe have observed that, the quality of gospel music produced in Ghana lately is more of lamentations than song ministration which should be in the form of evangelism.
"The lyrics of the songs are always laced with requests and this is not the main purpose of music. There is no inspiration in the songs and some people are only doing it for life. It is important to draw inspiration spiritually when the songs you produce are being played but this is not existent in recent times", they disclosed on Kasapa Entertainment last Saturday.
ALSO DOWNLOAD,
According to them, there is a drastic change in the genres of gospel music which has eventually led to the deviation from the core purpose of coming out with music which should have service to the Lord as the topmost priority.
"We get hurt when we watch television these days. You hear musicians talking about traveling passports, marriage and others instead of praising the most high God who sees your need and will accordingly give it to you", they added.
While calling on colleague gospel musicians to endeavor to return to their core mandate of winning souls for Christ, they reminded them of the need to depart from problems echoing songs to praises.
Source: mynewsgh.com