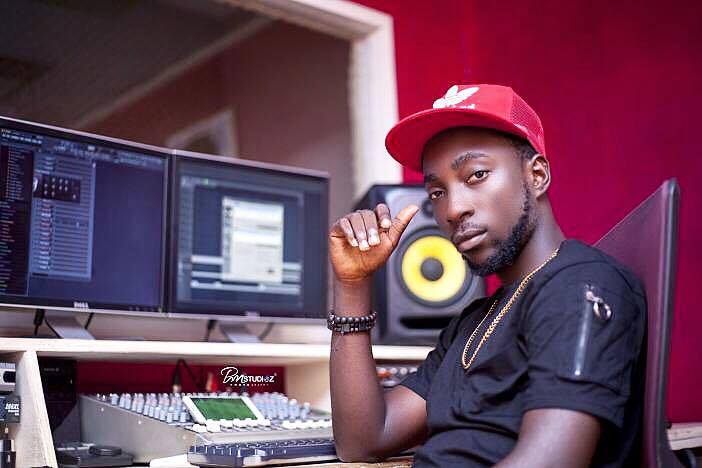 Willis Beatz opens up on how he do the magic. 98% of those who will read this story have danced to Shatta Wale's 'Taking over' but less than 5% know how the magic of the beat of the song was done and not much know about the music producer extraordinaire who is behind that.
Real name William Osafo, Willis Beatz is by far one of the best sound engineers the Western Region has birthed. According to Willis Beatz, he woke up one morning and started playing a beat which according to him he had Shatta Wale in mind as he was playing it.
Willis Beatz mentions that he listens to Shatta Wale's songs so he is familiar with his style. "Whilst playing the beat, all I had in mind was Shatta Wale. I played the beat to perfectly fit Shatta's style so there was no way I could have given the beat to anyone else. I played it for Shatta Wale" Willis Beatz revealed.
In his own words Williz Beatz who started producing music in 2009 said "I did not know how to contact Shatta Wale so I contacted a Promoter, Sleeky who is close to Shatta Wale and asked him to connect me to Shatta Wale since I have a beat which is tailored to his style. Shatta Wale upon hearing it asked that the beat be sent to him which I obeyed. He just liked the beat and said we will work more. He just liked the beat."
Asking him how he feels about the success of the song whose beat he played, Willis Beatz said he feels fulfilled and he is challenged to do greater works.
Willis Beatz who has produced Kofi Kinaata, Ebony, Guru, Castro, Nero X, Ruff n Smooth, Sayvee, amongst others revealed that, he has no intention of relocating to Accra as some people have advised him to. "Some Sound Engineers here in the region who were doing well left to Accra and now we don't even hear of them again. I don't think I will go to Accra because if I do the boys (Artistes) here (in Takoradi) will suffer. I am now using the little fame I have to push them. It's all about links, if I build my links well, I will be in Takoradi and play a beat for Wizkid and the likes" he said.
According to Willis Beatz, beat production in Takoradi is going on well. "People have come to undertand music in Takoradi so people are now paying attention to music producers. We now get clients from afar. Aside Accra, we get Artistes from far as Europe, Nzema, Tarkwa and other places. It's all about links, you can make it here in Takoradi."
Willis Beatz is looking forward to playing beats for Artistes like KCee, Davido, Sarkodie, Rekaado Banks, EL, Stonebwoy, Mr. Eazi, and others. He mentions that, most of them will manifest this year.
Author: Nana Kwesi Coomson