BM displays its credibility to organize Konkomba Music Awards.  Best multimedia, an Events, Promotion, and entertainment company in Nkwanta Volta Region is destined to organize the maiden edition of Konkomba Music Awards in Ghana.
The company has published it official documents to prove credibility, competence and license to organize events in Ghana.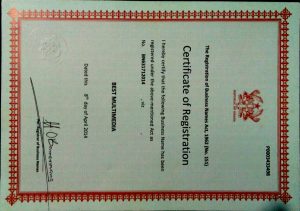 Best multimedia has organized events in the Volta region for artists like, Edem, Stonebwoy, Iwan, Eduwoji, Wutah, Screwface, Asah Khalifa and many more.
The awards objectives are as follows;
1. Raise the image of Konkombas across the world through music.
2. Introduce Konkomba artists to the business aspect of Music.
3. Provide educational and practical workshops through on air and outdoor programs
4. Roll out an Award scheme which will serve as a motivation and encouragement annually.
5. Support the winners of the Awards with promotion.
6. Introduce Konkomba Artists to the current Music Marketing strategies, in other to get the necessary recognition and assistance for their future projects.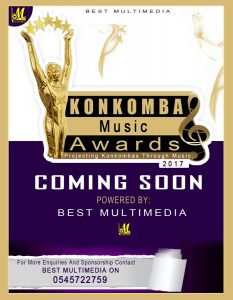 Best multimedia would like to call on all companies who would like to extend their services and products to the Konkomba lands to grab this opportunity by sponsoring the program.
According to CIA the World fact-book reports in Demographics of Ghana, The Konkombas are the 8th largest Ethnic group in Ghana representing 3.5% of the Total population of Ghana. The Konkombas are into Business and Farming activities and so any company who sponsor this project will have a success story.
Contact Best Multimedia for project proposal and budget document. Review the document and contact us for sponsorship contract negotiations. Contact Best Multimedia through Email: [email protected]
Phone or WhatsApp: +233545722759