Shatta Wale in the hands of IGP Dampare again. The Police have confirmed that they are probing popular Dancehall artiste, Shatta Wale, over a social media post on the death of Artiste Manager, Fennec Okyere who was the manager of Kwaw Kese. Below is the facebook post by shatta wale.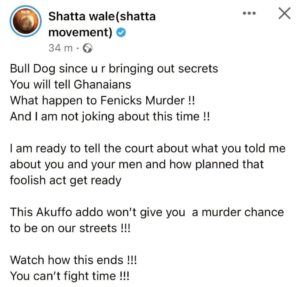 The controversial artiste suggested that his former manager, Bulldog, born Nana Asiama Hanson, was allegedly involved in the murder of the late Fennec Okyere.
"The attention of the Police Service has been drawn to a Facebook post by Charles Nii Armah Mensah Jnr., popularly known as Shatta Wale, regarding the death of artiste Manager Fennec Okyere. The Police have made contact with Shatta Wale who is cooperating with us on the matter," the police said in a statement.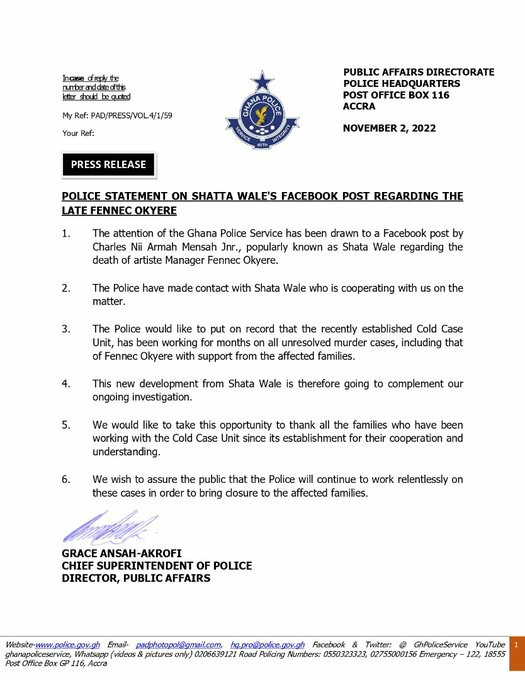 "The Police would like to put on record that the recently established Cold Case Unit, has been working for months on all unresolved murder cases, including that of Fennec Okyere with support from the affected families. This new development from Shata Wale is therefore going to complement our ongoing investigation."
"We would like to take this opportunity to thank all the families who have been working with the Cold Case Unit since its establishment for their cooperation and understanding. We wish to assure the public that the Police will continue to work relentlessly on these cases in order to bring closure to the affected families."
Fennec Okyere, who was the manager of the popular musician, Kwaw Kese, was murdered at his Manet Gardens residence on Spintex Road, Accra on Thursday, March 13, 2014, by unknown assailants.
Following his death, Bulldog was arrested by the Police Criminal Investigative Department (CID) and interrogated over the death.
ALSO DOWNLOAD: Shatta Wale – For Where
But the police are yet to complete the investigations, several years on. Shatta Wale in the hands of IGP Dampare again this is the second time thee police and Shatta wale are battling it out.
The plot continues to thicken as Shatta Wale and his former manager, Bulldog continue to battle it out on social media. Earlier on today, Bulldog had leaked some parts of the Shatta Wale's yet-to-be released Gift of God album.
The act has not been welcomed by Shatta Wale as he too has taken to social media to reveal that he knows what happened to Fennec Okyere, Kwaw Kese's late manager.
The CEO of Bullhaus Entertainment, Bulldog, has revealed that he no longer works with Dancehall musician Shatta Wale as artiste manager. This is the second time Bulldog and Shatta Wale have ended their business relationship. Bulldog began working for Shatta Wale as a manager in 2014. However, late in 2015, they parted ways after some disagreements. Their business relationship was rekindled when they joined Zylofon Music in 2018.
Meanwhile, Bulldog's announcement comes after reported rifts in the Shatta Movement camp.