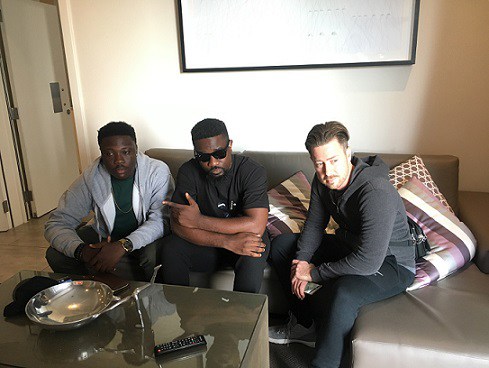 Jah Solo releases edited version of 'Jennifer Lomotey'. Okley Kofi Solomon known in showbiz as DJ Jah Solo, a DJ at Bryt FM in Koforidua has done an edited version of Kurl Songx's hit song 'Jennifer Lomotey' which features Ghana's rap 'King' Sarkodie.
The song which was released about two weeks ago has received a lot of flak from a section of the public especially Krobos.
In the song, Sarkodie raps: "Kr?b? nii baa papa a ahwene? da ne sisi. ?k?mfo An?kye de adwaman no ab? ne dua." This literally translates as "A good Krobo lady with beads around her waist. Okomfo Anokye has cursed her with promiscuity."
Okomfo Anokye is great priest of the Ashanti Kingdom who is believed to have cursed Krobo women with promiscuity.
'History' has it that some Krobo girls were cursed by Okomfo Anokye with promiscuity because they had seen his nakedness when he was bathing by the riverside.
According to critics of the song, the Okomfo Anokye part of the lyrics is demeaning to Krobos and that it would be appropriate for Sarkodie to apologise and for owners of the song to edit that portion out of the song.
Jah Solo who is noted for editing expletives and offensive language off song before he plays them on radio said he edited 'Jennifer Lomotey' because when he plaid the 'raw' version, his Krobo listeners would feel uncomfortable.
"That is what I usually do. I have done it to Joey B's 'Tonga' and a lot of songs that have words I believe are not radio-worthy," he said.
In the edited version, Jah Solo takes out the Okomfo Anokye bit and 'blurs' the word 'adwaman' in the lyrics.
Will other DJs follow the example of Jah Solo? Will the management of Kurl Songx release a cleaner version of the song? Does Jah Solo's act have legal implications?
Listen to Jah Solo's edited version of 'Jennifer Lomotey' below:
[soundcloud url="https://api.soundcloud.com/tracks/327848856″ params="auto_play=false&hide_related=false&show_comments=true&show_user=true&show_reposts=false&visual=true" width="100%" height="450″ iframe="true" /]