Ghanacelebrities news is made of finest celebrities that can match with any other celebrity in the world. The male and female celebrities in Ghana are uncountable ranging from the world of art and culture. The entertainment industry such as; music and movies alone has a chunk of the celebrities in addition to politics, arts, business, sports, media, and many more.
On this page Ghanacelebrities news, we presents to you all the daily latest news, gossips, news analysis, breaking news and many more on our Ghanaian celebrities. Click here for all the latest updates.
Permit me to also introduce to you some of the famous celebrities in Ghana. Below are the list and profile of some of them;
Shatta Wale – Ghana celebrity
Charles Nii Armah Mensah Jr., (born 17 October 1984) is a Ghanaian reggae-dancehall artist. He is known by his stage name Shatta Wale, formerly Bandana. His best-known singles are "Dancehall King", "My level" and "We taking over" .He is also known for Already from Beyoncé's Black is King Album which featured Major Lazer. His song "Dancehall King" earned him the Artiste of the Year at the 2014 edition of the Vodafone Ghana Music Awards. Wale is also an actor who appeared in the films Never Say Never,The trial of Shatta Wale, and Shattered Lives. Wale's 2004 recording "Moko Hoo" was nominated for a Ghana Music Award.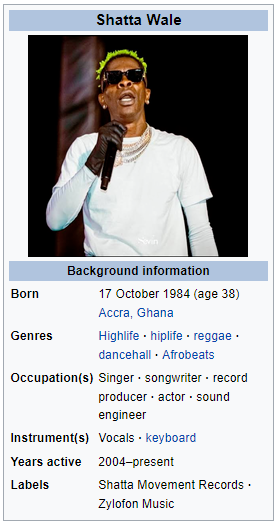 In 2014, he peaked to number 38 on E.tv's "Top 100 Most Influential Ghanaian" Awards chart. He has since then appeared on the chart every year. He was ranked "Most Influential Musician" on social media in 2017. He made a record-setting as a dancehall artist to have won 11 awards at the 2019 3 Music Awards ceremony
Charles Nii Armah Mensah Jr. was born in Accra, Ghana at the Police Hospital on 17 October 1984 to Charles Nii Armah Mensah Snr and Elsie Evelyn Avemegah. His father is a politician, businessman and legal practitioner.
Shatta Wale attended Seven Great Princes Academy at Dansoman a suburb in Accra, where he demonstrated an affinity for arts and acted in a popular drama series, By the Fireside, at the National Theatre of Ghana. He then continued to the Winneba Secondary School where he obtained his second cycle education.He started his young music career with borrowed name and identity-Doggy- a name he took in reverence of his favourite DanceHall artiste at the time- Yoggy Doggy.
Then he changed to Bandana- a name that shot him to fame after a single hit track. He died in music, buried for years, only to resurrect with a new name, Shatta Wale, a new identity and a solid repertoire of hits after hits.
Sarkodie – Ghana celebrity
Michael Owusu Addo (born July 10, 1988) known professionally as Sarkodie, is a Ghanaian rapper, songwriter, and entrepreneur from Tema. His contributions to the Ghanaian music industry have earned him numerous accolades, including the Vodafone Ghana Music Award for "Artiste of the Decade". He was announced the first winner of BET's Best International Flow artist at the 2019 BET Hip Hop Awards. He is also considered one of the major proponents of the Azonto genre and dance and one of the most successful African rappers of all time.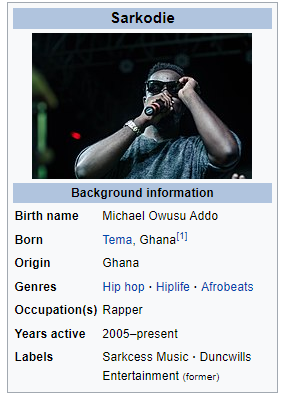 Sarkodie, the fourth of five children was born on July 10, 1988. He was raised in Koforidua before his parents moved to Tema where he started schooling. He attended Tema Methodist Day Senior High School and proceeded to IPMC, where he earned a degree in graphic design. Sarkodie began his music career as an underground rapper, participating in Adom FM's popular rap competition Kasahare Level. He met his former manager Duncan Williams of Duncwills Entertainment while participating in the aforementioned competition. He also met musicians Edem and Castro, who introduced him to Hammer of The Last Two, an established record producer. Impressed by his rap flows, Hammer allowed Sarkodie to record two tracks for Edems maiden album Volta Regime.
ALSO READ: Shatta Wale in the hands of IGP Dampare again
Stonebwoy – Ghana celebrity
Livingstone Etse Satekla (born 5 March 1988), better known by his stage name Stonebwoy, is a Ghanaian Afropop, dancehall and reggae musician.
first of all, is the CEO of Burniton Music Group. He won the Best International Act: Africa category at the 2015 BET Awards and Artist of the Year at the 2015 Ghana Music Awards He is also a recipient of two Billboard plaques. He has been described as the king of reggae and dance hall in Africa. Stonebwoy is also an actor, having appeared in the movies Happy Death Day and My name is Ramadan.  He is a global ambassador for sanitation. In September 2019, he was made the brand ambassador for Voltic Natural Mineral Water. He is the brand ambassador of Tecno mobile in Ghana.  In 2022, he signed unto Universal Music Group's Def Jam Recordings, and its flagship Def Jam Recordings Africa. He's poised to make three albums under the label.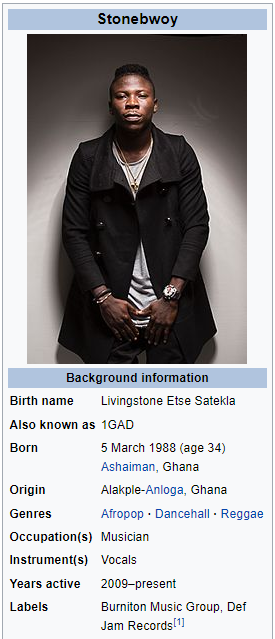 Stonebwoy pronounced "stoneboy" was born in Ashaiman in the Greater Accra region of Ghana and began making music in his early school days. He realized his talents and abilities as a lyricist and scriptwriter at an early age, remembering writing and acting drama pieces as far back as the fourth year in primary school.
To add, studied at Methodist Day Secondary School the same year with rapper Sarkodie where he obtained his high school certificate. He continued his tertiary education at University of Professional Studies to earn a degree in marketing in 2013. Satekla is married to Louisa Ansong Satekla, with two children.  Louisa is a dentist
John Dumelo – Ghana celebrity
John Dumelo (born 3 February 1984) is a Ghanaian actor, farmer and politician. On 1 April 2014 he emerged as the first Ghanaian to hit a million likes on Facebook. His parents are Mr. John Dumelo who was a Civil Engineer and Mrs. Antoinette Dumelo a Customs Officer. Dumelo was born in Ghana and had his basic education at Christ the King School in Accra.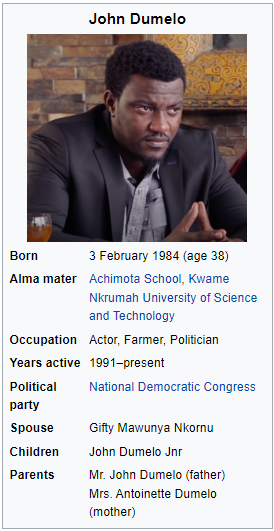 Also,he attended Achimota School was part of the Drama Club and also won the Fliers Guy in Mo-TOWN prize. and further studied Civil Engineering at Kwame Nkrumah University of Science and Technology. He contested in "Mr University" won at KNUST. Later, he enrolled in GIMPA's School of Public Service and Governance. He started acting in the early 1990s in a 1991 movie called Baby Thief while he was attending Christ the King School and was paid 20 thousand old Ghana Cedis (currently 2 Ghana Cedis) at age 7 years
Jackie Appiah – Ghana celebrity
Jackie Appiah (born 5 December 1983 is a Canadian-born Ghanaian actress. For her work as an actress, she has received several awards and nominations, including the awards for Best Actress in a Leading Role at the 2010 Africa Movie Academy Awards; and Best Actress in a Supporting Role at the Africa Movie Academy Awards in 2007. She received two nominations for Best Actress in a Leading Role and Best Upcoming Actress at the Africa Movie Academy Awards in 2008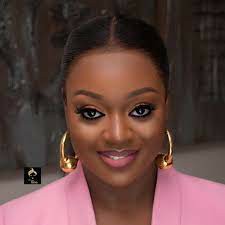 Jackie Appiah was born on December 5, 1983 in Toronto, Canada. She is the last of five children. She is a Ghanaian Canadian, as she was born in Toronto. She spent her early childhood in Canada, and moved to Ghana with her mother at the age of 10. She is popularly known by her maiden name, Appiah. Appiah married Peter Agyemang in 2005 and has one son. Appiah's father is Kwabena Appiah (the younger brother of the late Joe Appiah, a famous lawyer in Kumasi), currently residing in Toronto, Ontario, Canada.
Yvonne Nelson – Ghana celebrity
Yvonne Nelson (born November 12, 1985) is a Ghanaian actress, model, film producer and entrepreneur. She has starred in several movies, including House of Gold (2013), Any Other Monday, In April, and Swings.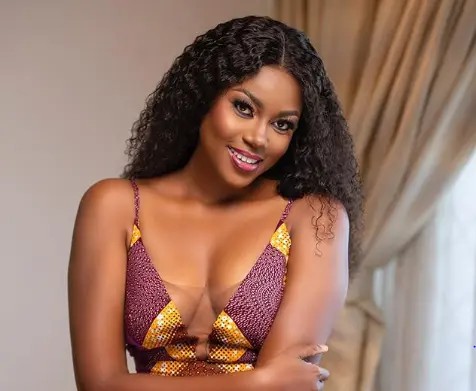 Yvonne Nelson was born in Accra, Ghana. She is of Fante and Ga descent. She started her education at St. Martin De Porres School in Accra and later went to Aggrey Memorial Senior High School. She had her tertiary education at Zenith University College and Central University, where she did a degree course in human resource management. She graduated from the Ghana Institute of Management and Public Administration (GIMPA) with a Masters Degree in International Relations and Diplomacy in 2020.
Abeiku Santana – Ghana celebrity
Nanayere Gifty Anti – Ghana celebrity
Dede Ayew – Ghana celebrity
Nadia Buari – Ghana celebrity
Black Sherrif – Ghana celebrity
Asamoah Gyan – Ghana celebrity
And many more. For latest news on all Ghanaian celebrities please click HERE